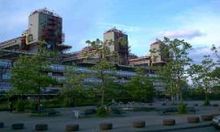 (Fr.
AIX-LA-CHAPELLE
), industrial city and resort of North Rhine- Westphalia, West Germany, near the Dutch and the Belgian frontiers. Aachen is in the Würm Valley, surrounded by the Venn Mountains, and on the main railway between Cologne and Brussels. It is important as an industrial and commercial city, but is better known for its historical associations. Its mineral waters attract many visitors annually. There are extensive coalfields in the vicinity and a variety of industries in the city, notably the production of iron. Other important manufactures are glass, needles, pins, electric motors, bulbs, leather, furniture, chemicals, cigars, and chocolate. Aachen has several educational institutions, of which the most famous are a technical institute and a teachers college. There are also a mining office, five museums, and five libraries.
Aachen was called Aquae Grani by the Romans, who knew its hot spring. The place became famous when Charlemagne made it his residence and the capital of his empire in the 8th century. Later Aachen became the coronation city of the Holy Roman Empire. Between 1901 and 1914 Aachen was under French rule. During the Franco-Prussian War and World Wars I and II, Aachen was a base for military operations and an important center of traffic. In World War II approximately half of the city was destroyed.
Many historical relics survived the air raids of World War II, including the famous cathedral erected during the reign of Charlemagne as a palace chapel in Romanesque style. After its destruction by the Normans it was rebuilt in 983 by Otto III. The cathedral contains the tomb of Charlemagne and many other religious relics. The churches of St. Foillan and St. Paul, the town hall, and the Grashaus are other notable buildings. In the old part of the city are some fine streets, lined by ancient houses, and the squares have monuments and statues, of which that of Charlemagne in the market square is the most famous. The former fortifications around the city are walks and parks, and only twi gates, the Ponttor and Marschiertor, remain.
JOACHIM MARQUARDT